Female students 'take over' the Learning Factory on Ladies' Night
04/05/18
UNIVERSITY PARK, Pa. - The sound of whirring band saws, swinging hammers and the screeching of metal being cut filled the air at Penn State's Bernard M. Gordon Learning Factory on March 20, the same as any other night. But there was one stark difference.
The workshop was filled exclusively with female students.
Envisioned and planned by Jessica Menold, assistant professor of engineering design and mechanical engineering, and Katie Kirsch, a post-doctoral researcher in mechanical engineering, it was the inaugural Ladies' Night at the Learning Factory.
"In my engineering design classes, I've seen that sometimes the women in class were hesitant to work on the band saw or different tools," Menold said. "The men were usually much more confident and just went for it."
 Working alongside Kirsch, she hoped to empower her female students, particularly those from her Engineering Design 100H: Introduction to Engineering Design course, to learn more about the Learning Factory's equipment. The result was Ladies' Night, a designated evening promoted to all female engineering students as a chance to learn how to operate the tools at the Learning Factory and create a DIY project.
 "We want to bring together a community of women who build," Kirsch said.
 Similar to all new Learning Factory participants, the students, who were joined by several faculty and teaching assistants, were given safety demonstrations and instructions on how to operate each piece of machinery.
Elizabeth Trautman, a first-year majoring in biomedical engineering, said, "I was very excited to get an opportunity to train in an environment that would be less judgmental than most male-dominated shops." Lucy Spicher, a freshman majoring in biomedical and mechanical engineering, added, "I think I physically jumped for joy!"
 Later on, the students had the option to create two different projects: a stamped metal luminary or a small lap desk.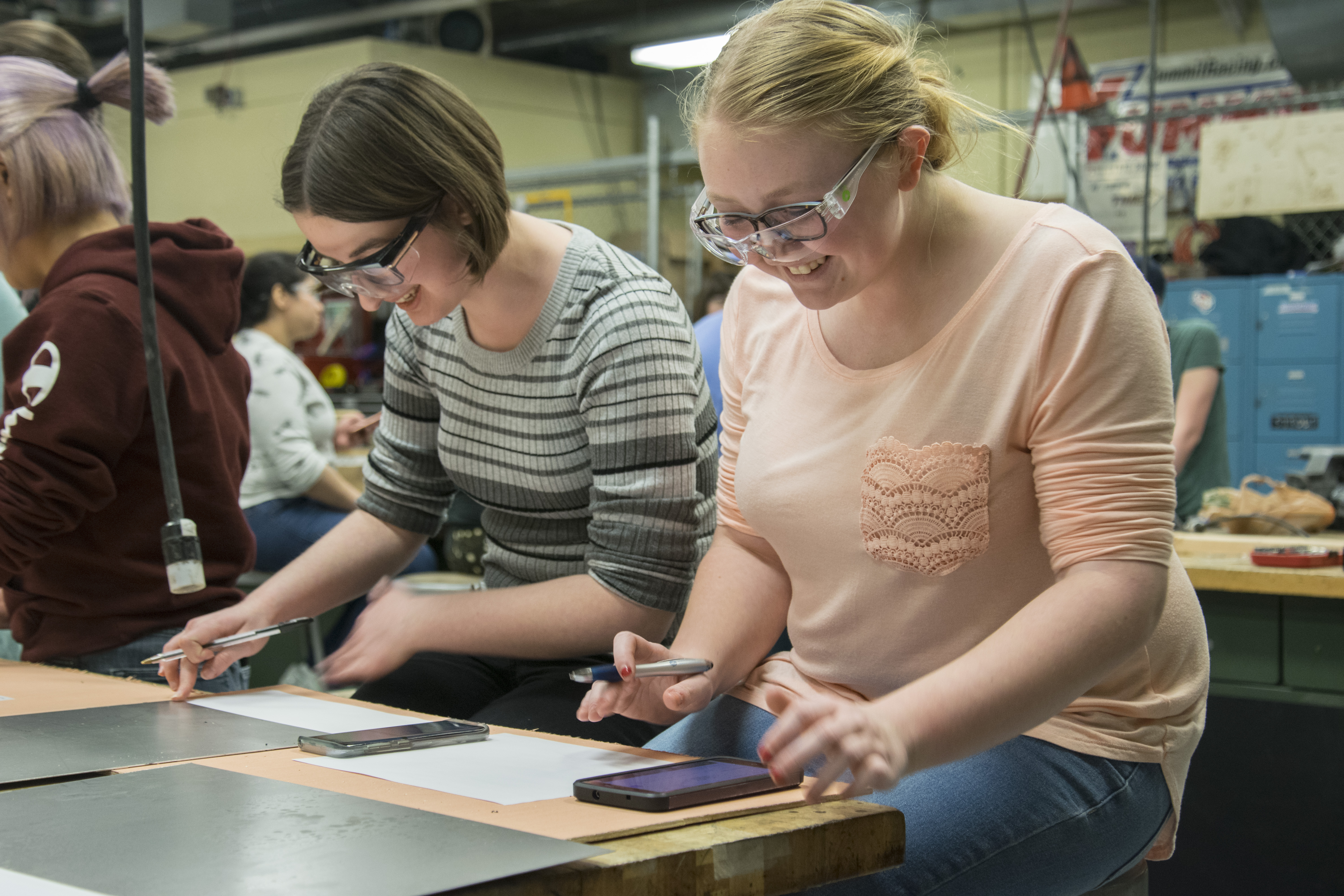 "We wanted to do fun projects, not necessarily related to their engineering courses, to just start out having fun," Menold said.
 Funded and supported by Matt Parkinson, professor of engineering design and mechanical engineering and director of the Learning Factory, and Bill Genet, the Learning Factory supervisor, Kirsch said the event was extremely well-received by the students. "Before we even started working on our projects that night, they wanted to know when the next event was. Then, the excitement only increased from there," she said.
 The camaraderie could be felt in the room, as the female students exchanged thoughts and laughs while working on their projects.
 "These types of events remind women that they are not alone in their field and it can also make them feel more comfortable in the very male-dominated aspects of engineering," Trautman said.
 Capitalizing on the growing enrollment of women in the College of Engineering, Kirsch and Menold hope to develop Ladies' Night into an on-going series of events reaching students across all disciplines.
 "I think it really comes down to confidence," Kirsch said. "I want all our students to feel good and comfortable about using tools, in their education and their life."
 Acknowledging the growing number of female students studying engineering, Menold said, "We hope one day we won't need a designated Ladies' Night at all."
MEDIA CONTACT:
College of Engineering Media Relations